To order call 1-800-903-9247 (US & Canada) or 1-513-671-3322 (World Wide).
Email techelp@exair.com
The Cabinet Cooler® Keeps Electrical Panel Enclosures Cool and Dry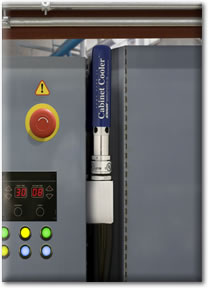 Cabinet Coolers Keep Electrical Enclosures from Overheating
Compressed air powered Cabinet Coolers are the low cost solution to overheated electrical enclosures. Using vortex tube technology they purge and cool the electrical enclosure with refrigerated air that comes from an ordinary compressed air supply. These pneumatic coolers keep dirt and moisture out. They can be installed in minutes through an ordinary electrical knockout.
These vortex tube cabinet coolers can last a lifetime since there are no moving parts to wear out. The vortex tube cabinet coolers are made of stainless steel. The wear, corrosion and oxidation resistance of stainless steel helps assure long life and maintenance free operation.
Thermostatic systems are available where heat load fluctuates and continual purge is not required, helping to reduce heat damage, along with all the other malfunctions heat can cause. By comparison, refrigerant air conditioners, heat exchangers and fans all have moving parts and limited life spans.
Hot weather can add to the increased heat load and send an electronic control that has been functioning normally into complete failure. Mounting many components in the confined space of the electrical enclosure panel makes it easy to exceed the manufacturer's temperature rating of the various components.
The problem is all too common. Electrical enclosures packed full of relays, thermal overloads, plcs, computer monitors or circuit boards generate heat. When the temperature in the control panel rises, you can expect:
Tripped circuit breakers and blown fuses
Heat damage and circuit drift
Machinery to shutdown – lost production
Erroneous data
Other malfunctions
Continue to browse using the left hand navigation for more information on how EXAIR Cabinet Coolers can keep your elecrical enclosures cool and functioning properly.